Description
This is POWEROAD PRLC-100, one of our most proud 12V 100Ah lithium-ion phosphate deep cycle batteries. The PRLC-100 is designed as a drop-in replacement of all the batteries with the BCI Group 31 form factor.
with the built-in Bluetooth feature, you can monitor the battery without plugging all those dongles; with RS485 and CANBUS communication protocol, you can build your own high-end smart mini-grid system; the casing is the emphasis, and the enclosure delivers IP66-rated level protection, keeping the battery from leaks and dirt, more than that, the users can unbox the battery for future maintenance and modifications, which gives the users the max range of creativity.
With more than 3000 cycle charges (80% DOD), with high energy density, intelligent features, plus protection and upgradeable design, PRLC-100 is your best choice to build your intelligent grid system.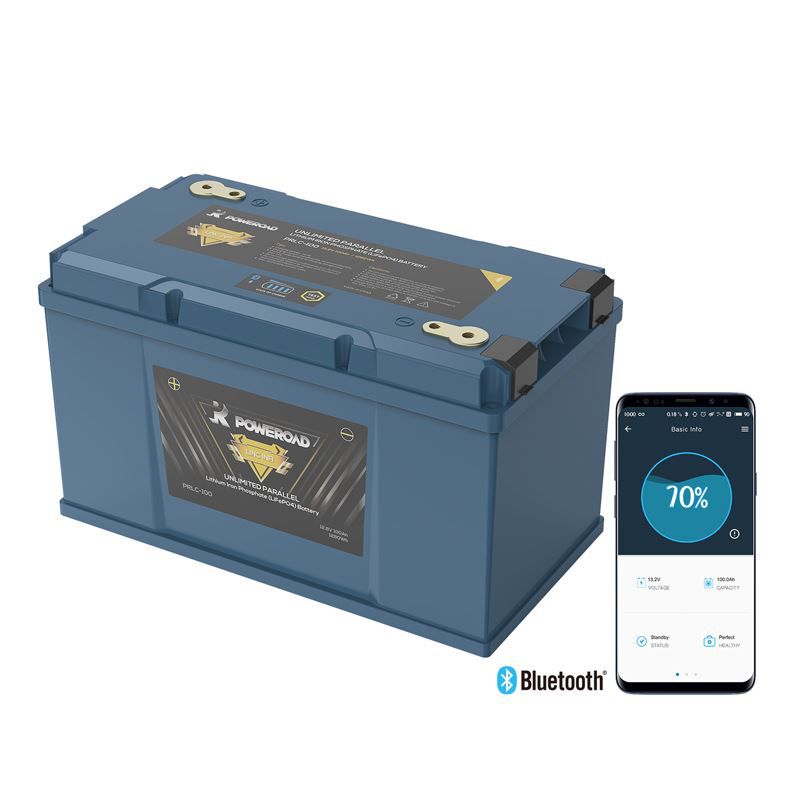 Model: PRLC – 100 / 100H

MECHANICAL

ELECTRICAL SPECS

Dimensions (L x W x H)(MM)

● 330x175x195

Nominal Voltage

● 12.8 V

Weight (Kg)

● 12

Nominal Capacity

● 100 Ah

Terminal Type

● M8

Energy

● 1280 Wh

Case Material

● Heat Resistance Case

Self Discharge

● <3% per Month

● With ABS & PC

Discharge Temperature (℃)

● -20°C~ +55°C

Enclosure Protection

● IP66

Charge Temperature (℃)

● 0°C ~ +45°C

Cell Type – Chemistry

● Prismatic – LiFePO4

Series/Parallel

● 4S/2P

BCI Group

● BCI Group 31

Bluetooth

● Bluetooth 4.0

CommunicationsProtocol

● RS485

CHARGE & DISCHARGE

● CANBUS

Charge Voltage

● 14.4 V

Charge Current

● Standard: 20 A

CERTIFICATIONS

● Maximum: 100 A

Certifications

●DGM

Discharge Cut-off Voltage

● 10 V

●MSDS

Continuous Discharge Current

● Standard: 20 A

●CE

● Maximum: 150 A

●UN 38.3

Peak Discharge Current

● 350A @3s

Shipping Classification

●UN 3480, CLASS 9

Cycle Life

● 4000 @ 80% DOD
Key Features
Communication Available:
The LINC INFI lineup supports RS485 & CAN bus communication protocol, giving the users the best control of the battery, with the communication feature, the users can wire the batteries with the inverters and enable communication between the batteries and inverter, building up the smart grid system.
Intelligent Warm-up Feature:
When the condition meets, the close-fit heating module warms up the battery cells and secures the charges and the battery life. You only need to plug in the charge, and the battery handles the rest.
Built-in Bluetooth :
No need for external monitors to check the battery condition, Poweroad LINC EXTN series brings you an excellent lithium battery monitoring experience and integrates all the crucial information into the user interface, one glance, you will see all.
More Battery Cell Info
Our Advantages
1. Diving deep into the battery industry for 20 years, with 15+ years of lithium-based manufacturing experience.
2. Solid technology background with owned BMS development, we provide our customers with trusty production.
3. We complied with the rigorous standards including UL, MSDS, UN38.3, ISO9001, ISO14001, etc.
Our Certificates