Description
With built-in Automatic Transfer Switch, POWERAOD ESBox 5000 can automatically and immediately start to provide power within 10mS when it detects grid outages, which can be used as a kind of backup UPS to protect your computer and other home appliances against frequent power supply interruptions.
The ESBox 5000 will always keep your lights, computer and fridge on and phones charged when there is sudden power outage. It also can become off-grid electrical system with the solar energy when there is no grid.
The ESBox 5000 is designed as independent power supply and equipped with three USB ports, three 12V DC ports and two AC ports. Multiple AC/DC outputs can meet all your daily charge and power supply requirements. Also, it can be charged by both solar power and grid power directly through related input ports. With wheels and handles, the ESBox 5000 can be easily moved when needed.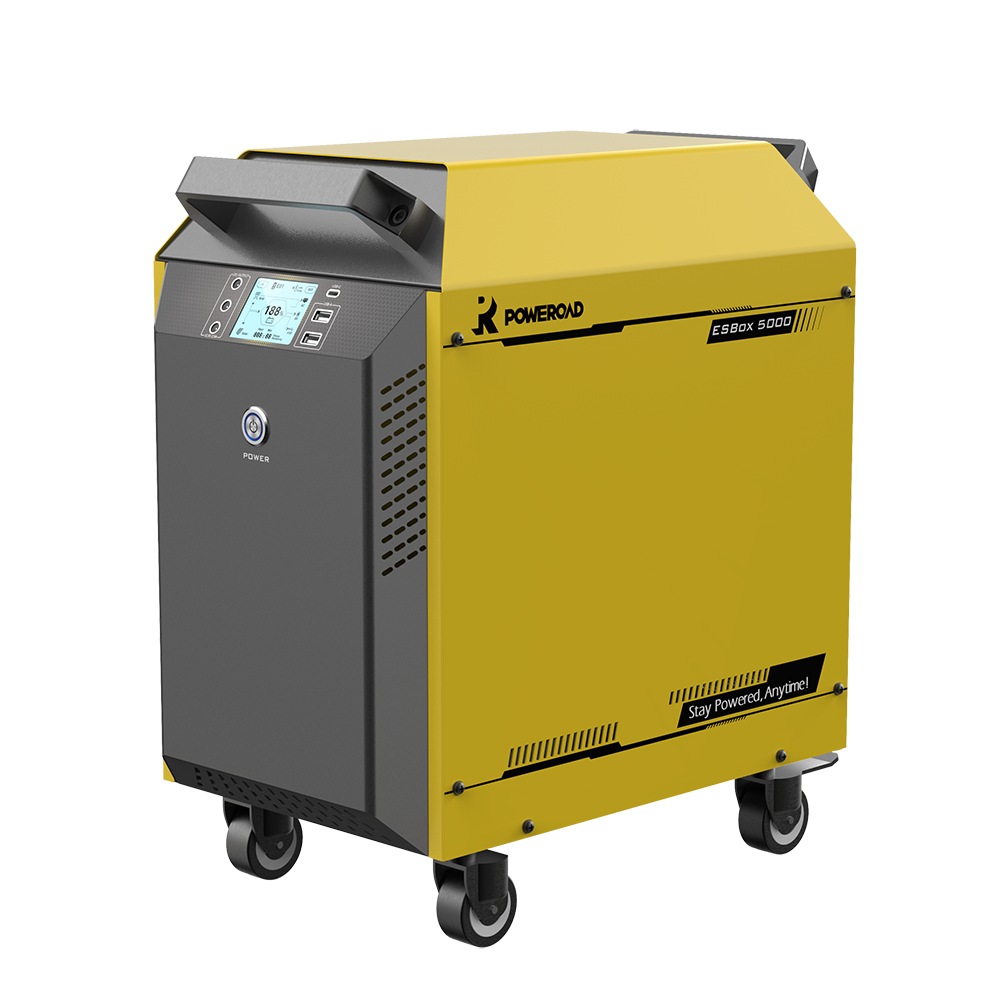 Key Features
All-in-one power solution with various output and input ports.

Automatically and immediately supply power within 15ms.

Continuous 2200W AC power output to drive higher power devices.

Use both solar power and grid power for high charging efficiency.

Silent operation and especially quieter than generators.

Basically maintenance free and long service life.

Reserved function of battery capacity expansion.

Environment-friendly and no-polluting. No harm to health.
Battery

Cell Chemistry

LiFePO4

Rated Capacity

50400Wh

Lifecycles

3000

Charge

Built-in AC charger

8-9hrs

Solar PV

8hrs(Max.730W)

AC+Solar

3-4hrs

Output ports

USB-A Output 1,2

5V2A (Max 5V2.4A, 2 channels)

USB-A Output 3

5V2.4A, 9V2A, 12V1.5A (18W, QC3.0)

12V DC Output

12.8V2.5A (32W, 3 channels)

AC Mains Supply Output

Same as mains supply (1900W, 3000W pulse)

AC Inverter Output

230V50Hz, 6.8A (1500W, 3000W pulse, Pure Sine Wave)

Others

Operating Temperature

-20℃ to +45℃

Dimensions

446*275*493mm

Weight

51kg±2kg
FAQ
Q1: What can the ESBox 5000 Mini home power station do?
A: The ESBox 5000 can be used for power outages, on-grid, off-grid for home and small business, also can work as the movable power supply for outdoor use.
Q2: I'm using the diesel generator for the off-grid power supply, can I use ESBox 5000 instead?
A: Yes, of course. The back-up power can be vitally important for households in areas with an unreliable power grid, or people who need continuous electricity to power medical equipment or important electronic tech systems. The most common scenario is, many households get a generator or even two (one for the backup), and that's not a small cost. Considering the cleaner, quieter, greener solution, the home battery, especially with inverter built-in is the great option to replace the diesel generator.